DreamJob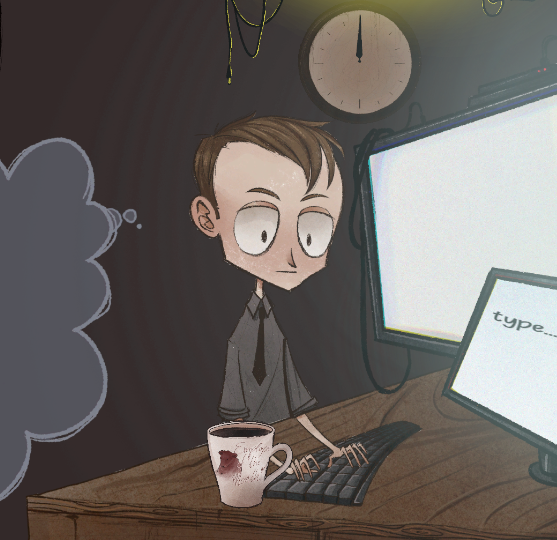 Description

You finally found your dream job: Software Developer!
Your goal: complete all tasks given to you by your employer (on the big screen). TYPE them correctly, use ENTER to complete a task. You will, of course, periodically receive new tasks!
But beware: software development is a tough job. You will have to LEFT CLICK and HOLD on the sheep, as they pop into your overworked, daydreaming mind. Once per Round, you can also LEFT CLICK the coffee to remove all of the black sheep. Should your dream fill up with sheep completely, you will fall asleep and lose your job!
Secret hint: Try the coffee!
Manage to complete all your given tasks before your DEADLINE is over, and you will be able to keep working on your project!
Alternatively you may resign, but you would never do that since it's your dream job, right?
Right.
---
Jokes aside, this project is a love letter to the love we all feel towards game dev. We love our jobs and want to use this opportunity to draw attention to the pitfalls of overwork. Don't take it too seriously, and let's all continue to follow our passion and make awesome games!
DreamJob was developed for the Innogames Gamejam 2023 by:
Leonie Straßer, Luca Schmidt, Jan-Dirk Verbeek, Lotti Nowak, Lukas Roloff
Technology used

Unity
Help / Controls

Type your tasks, press Enter to send them in. Click sheep and hold to remove them. Drink a coffee to stay awake.
You might mod the game (add/remove/change word lists) by changing the data.txts in "Dream Job_Data/ Streaming Assets".
Votes
8 people rated this game.
Overall the game ranked #5 at the Jam!
This game was also rated in 5 other categories

Gameplay: 6.5/10

Graphics: 8.75/10

Audio: 5.875/10

Innovation: 6.0/10

Humor: 6.875/10
Comments
LuBu (1 month 25 days ago)
Tianmaru (1 month 25 days ago)
Nice little typing Game, but will we ever finish our game? Hits somewhat close to home :D
Log in or register to post a comment.